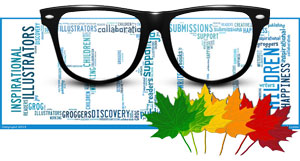 A warm welcome to Carolyn Scoppettone, author of the new picture book, HOLD THIS! She is sponsoring a book give-away today, so be sure to leave a comment to enter.
Carolyn's debut picture book was published this fall by Maine publisher Islandport. It's illustrated by Priscilla Alpaugh. The story follows an enthusiastic little girl and her father on a walk in the woods, where they find many fascinating objects to examine and hold onto.
The book has been well reviewed — see the Kirkus review here. Carolyn has been busy promoting her book in and around her home town of Montpelier, Vermont, with story walks, and more. Don't know what a story walk is? Read on.
Q: Carolyn, what inspired you to write HOLD THIS?
CS: When my daughters were little we would take long walks in the woods. The girls would rush ahead and return, beaming, with one woodland treasure after another. And, of course, they wanted me to hold them all.
IP: Can you speak a little bit about the evolution of this story idea? 
CS:The book grew from the walks I took with my girls when they were little. Like my character, Mika, my girls were delighted with what they found. Bumpy twigs, smooth stones, crunchy leaves, all these items were scooped up and brought to me to hold.
See whole article here. Originally posted November 13, 2015