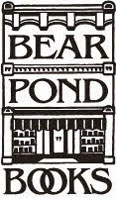 Last Friday while we were reviewing early chapter books (more on those tomorrow), Kellogg-Hubbard Library was hosting a launch event for the publication of "Hold This!" a debut picture book by Montpelier author Carolyn Scoppettone. "Hold This!"recounts a walk through the woods with a daughter discovering many treasures – or "treasures" – to share with her father.
Earlier this month, Islandport Press published a short written Q&A with Carolyn about the origin of the book, linked here. Now, she has nicely taken the time to do another round for our educators blog. 
We've had authors in our educators series before speak about the sense of play and wonder as an important part of engaging kids in learning – looking a little beyond the text on the page, do you have thoughts for inspiring the feeling of play in planned activities, like you would find in a school setting?
At the end of "Hold This!," Mika builds a fairy house. For young children, building small structures like these engages the imagination as well as the senses. Handling bark, leaves, stones, and other natural materials gives a child a chance to notice shape, texture, and fragrance, among other things.
While you might not build a fairy house in a classroom, natural materials can come into school to be used in crafts and art activities. I especially like art activities that highlight the complexity and beauty found in nature. Leaf rubbings, natural collages, shoe box dioramas, and many other activities allow children to create something beautiful out of things they find in nature.
There are also many crafts that highlight certain properties of natural objects. For example, when studying snowflakes in Four Winds, we would have the children cut out paper snowflakes. This is a simple but beautiful craft that reinforces the concept that the shape of each snowflake is unique.
Puppet shows and felt board activities are always great, as well. In the Four Winds program, we would start each lesson with a puppet show that introduced the learning objectives. For a unit on camouflage, for example, the puppet characters blended in with the background. When I do an author visit with a preschool audience, I bring along a felt board version of "Hold This!" Children love helping me find the various natural treasures that Mika asks her father to hold. There are a wide variety of games, as well. Memory games, for example, work particularly well with a nature theme.
Read whole article here. Originally posted on October 8, 2015.